Breasy, when vending is just an app away!
Breasy is a NEW smart app designed to improve and personalize the experience of purchasing from vending machines. 
Enjoy speedy, secure transactions direct from your smartphone: buy a cup of coffee even when you've just run out of small change and card payment is impossible.

Smartphone and few taps
The app uses Bluetooth® to automatically identify and display the list of products available in the enabled vending machines.

You won't need to create a wallet
With Breasy, all you require is your payment card data and you're ready to go!

Breasy payments are easy and secure
Thanks to Masterpass™ platform, ensuring speed and security.

Smart queue management
Breasy can tell users how many people are waiting for the order before their turn comes up.

A safe break tailored to your needs
Now users can customise their purchases direct from their smartphone, in total safety. Breasy stores their favourite drinks in its memory.

Breasy also provides information on nutrition and products

Offer your customers the highest protection for each purchase with Masterpass™: they will simply store their cards in one secure location, protected by the extra layers of security you expect from Mastercard.
Easy, fast, secure payment. Breasy makes your coffee break easy!
Anyone can use your vending machines. Breasy speedily handles secure transactions everywhere. 
You can receive payments amazingly rapidly at particularly convenient conditions. Your customers will enjoy the unique experience of the customized services and simplicity of use.

Breasy simplifies transactions. You can receive your takings directly on your bank account, rapidly and with full security.

Thanks to the uniqueness of the offer of a single app for all operators, Evoca Group has stipulated extremely advantageous conditions for interbank services.

This app speaks in your name! 
Customize Breasy with your own colours and logo. This makes for closer relations with your customers.

The transactions flow from the data connection on the customer's smartphone. Vending machines can function offline.

Breasy helps you get to know your customer base, via analysis of the flow of purchased products so that special promotions can be tailored to their specific needs.

Thanks to Breasy, you can configure your very own loyalty program for your customers.
Breasy Backoffice
Thanks to Breasy, operators are able to customise the app with their own logo and colours. Moreover, through the personal account, it is possible to track data and make statistical analysis.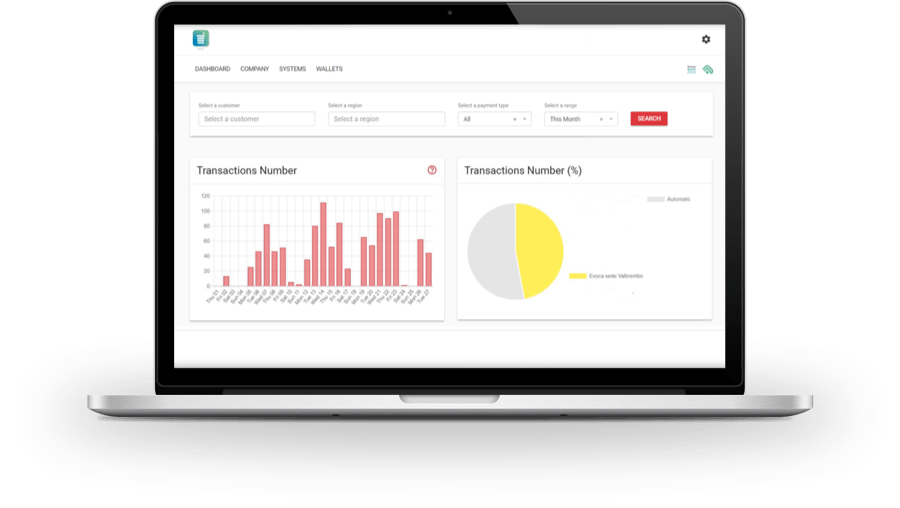 Download
Download images and the brochure with full details about Breasy.
PAYMENT SOLUTIONS
Breasy + Hi!
Breasy is an app for mobile devices that has been fully integrated with Hi!, the leading-edge system that revolutionizes cashless payments. Thanks to its backup and data retrieval function (integrated IrDA and Bluetooth®), your transactions and day by day activities are even more secure and even faster. Technology and innovation combined in a unique product.
Integrating Breasy with Hi! readers enhances the customer's user experience, ensuring simplicity and effort-free speed during use. 
By installing a Hi! device on your vending machine not only will you have a technologically advanced leading-edge product, but also excellent reasons for customers to come to you! Customized breaks, speedy and secure payment, nutritional facts, and much more, for higher quality breaks on a day to day basis and guaranteed customer loyalty.
Discover all our Hi! products and prepare your company for the future of vending.
Discover Hi!